I know Leslie ever since I got involved in social media. A dog welfare advocate, trainer, friend. We've had our share of medical disasters with Jasmine and when we needed help Leslie was there for us. I'm sure she's been there for many of you as well. Now she needs our help. Having enough medical and financial challenges on her own, one disaster after another struck the four-legged members of her family ...
***
A glimpse of happier days. Bridget (left), Talley (center), and Doobie (right) having a pool party.
Have you experienced this? It never rains but it pours?
That's what my life has been for the past several years. Two of my beloved Labrador Retrievers, both Certified Therapy Dogs, are part of this story. So where to begin? In the past I ran Look What I Can Do! Dog Training, Dog Kingdom Pets, and most recently The DogSmith of the Upper Eastern Shore.
Prior to our move to Florida, as I struggled to maintain my business while dealing with chronic pain issues, it truly was pouring.
Appointments, specialists and procedures became a way of life. The latter has continued, to some degree, since our move nine months ago. I was forced to formally retire in order to focus on taking care of myself.
Couple of weeks ago, my beloved Doobie, my heart and soul, had to be set free from his ailing body. The grieving process is yet very raw. We shared a deep and abiding connection.
Doobie existed his first four years in a puppy mill. I am a failed foster. In about 1 minute I decided to adopt and rehab this poor soul who so needed me. Among other achievements, Doobie went on to become a Certified Therapy Dog (CGC), and a PAWS for People Therapy Team member.
Doobie sharing love during a therapy visit
Doobie had so much love to share once he learned how.
It was surely pouring when after three surgeries for excision of mast cell tumors, another surfaced, accompanied by abdominal distention. X-rays revealed a splenic tumor. My sweet boy was kept comfortable until it was time, and then he went to sleep in my arms here at home. His dear life ended in my yoga room, where he would deeply relax while I did meditation and yoga.
Literally right on the heels of his death, while I was still grieving, the next thunderstorm arrived.
The Lab trio is now a duo
Crazy Bridget, as I lovingly call her, was diagnosed with
lumbosacral stenosis
. She, also being a lab, is ten years old, and also is a Certified Therapy Dog. I was gobsmacked. How could this be happening? Bridget, she who earned small fame as a carrier and roller of logs not sticks, has lived life so large, and yet here she lays, on a month of strict rest.
Bridget touching a heart during a therapy visit
The order of strict rest originated with the University of Florida Small Animal Hospital Specialists.
Deep healing sleep
Hind sight is 20/20 is it not? Looking back, and knowing what we know now, the progression makes sense.
First, hind end stiffness occurred after slap happy running and fetching. We cut back on the running as we observed exacerbation of hind end stiffness. Courses off prednisone and carprofen were variously done.
The problem persisted with any increased activity level.
The proverbial final straw occurred when it became apparent that simply being up on her feet over the course of three hours whilst out sharing the love was causing her pain. At that time, I decided my once vibrant and happy go lucky girl needed some serious help. Clearly she was communicating her pain, shouting it really, collapsing after what was once a typical outing.

Ongoing progression of symptoms led to systematic exclusion of activities much loved by Bridget.
My heart hurts reflecting back. All of the following were gradually cut from the repertoire of allowed activities: beach travel and play in the surf, flying recalls across the back yard, crazy happy games of fetch, crashing through one side of the kiddy pool and out the other in pursuit of a toy, walks around the pond, therapy dog activities and finally, even roaming freely around her own yard. Gosh, what does she have left? Not a whole lot from where I sit, while Bridget sleeps away the day in her living room enclosure, resting per U of F recommendations.
Typical crazy Bridget
What is this lumbosacral stenosis?
Rest assured, this is not a good thing. Lumbosacral refers to the joint between the last lumbar vertebrae and the sacrum. This joint is of pivotal importance in regards to mobility.
Stenosis means narrowing. Nerves are being pinched and compressed where they exit the spinal canal, accounting for her obvious pain and now apparent muscle atrophy. Truly, it hurts my heart to see her not galloping about the yard, while I enforce the necessary rest.
You might be wondering, well, how can I tell if my dog is in pain? Here are many signs exhibited by Bridget during the progression:
random intervals of panting and increased respirations. Normal for a dog is 12- 30
becoming exhausted by once normal activities, sleeps and rests more
excessive attention to hind end by turning and grooming or licking flanks
frequent lip licking
frequent change of posture and inability to lay comfortably. This can include vocalizations while changing posture
increasing hind end weakness, slow to rise with increasing difficulty
inability to relax fully and poor quality of rest
noticeable stiffness in the hind end once up, and short small stiff steps when walking
looking overall depressed and not engaging in normal activities. We all know what our happy dogs look like.
excessive attention and grooming to front limbs also.
Please keep in mind that pain is not considered part of the normal aging process and needs to be treated.
Please do obtain a Veterinary consult, should you be observing these signs in your own pet.
The pouring continued post consult, as Bridget suffered hind end collapse three days in a row.
How distressing is that? We now have a supportive sling and I am happy to say Bridget is responding well to meds and rest, with a reduction in pain.
What will happen to Bridget?
Typical happy Bridget
Of this I am not yet certain. The next appointment is June 20th, at which time further diagnostics, such as an MRI, will help to definitively arrive at an accurate diagnosis. My best hope of hopes is for sufficient recovery to begin a course of rehab. Surgery is being considered. My heart is broken.
Now "grounded" and not feeling well
Bridget, only ten years old, was not designed for lying around.
Her heart lies with being out in her adoring public, sharing the doggy love, making people laugh and smile.
Like Bridget, I am no longer working, necessary for pain management and ongoing self care.
Medical costs for myself and the labs have been staggering, to the point where funds set aside upon the move have been exhausted. We have been digging deep into a very modest retirement account to do right by our beloved companions.
A decision to start a gofundme was not lightly made.
Who likes to ask people for money? It is not a comfortable thing to do. However, Jana and other friends, chimed in with valuable feedback, that given the circumstances, it was a reasonable thing to do. We have helped others in need. I guess maybe it is our turn.
So yes, it has been pouring. The expenses will continue to mount with the the next UF visit.
Bridget has a long road to recovery if we can help her along
Further diagnostics will include an MRI, a chest X-ray, anesthesia, and blood work, followed by a rehab program or possibly even surgery. And even at this moment further complications involve reduced urine output. We are off to the Vet yet again this afternoon for further blood work targeting kidney function We will have to see what transpires. I am happy to report that our oldest lab, 11 year old Talley, continues to maintain her robust good health!!
Estimated expenses for a further consult, diagnostics rehab and possibly surgery are $10,000. Surgery may become a consideration. An MRI is necessary for a definitive diagnosis prior to a surgery.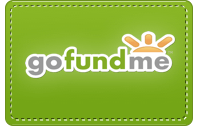 If you cannot see the button above, you can visit Bridget Therapy Dog Medical Fund directly.
Jana so kindly offered her assistance to help Bridget obtain needed help. Thus, any excess funds will be set up at University of Florida Small Animal Hospital in honor of Jana`s beloved Jasmine. Excess funds will be used to help dogs in need, in keeping with Jana`s own philosophies.
We have been blessed with these wonderful Labrador Retrievers, who are really family and "people in dog suits." Doobie , painfully is gone.
I am not ready to lose another dog.
Considering the joy Bridget shared as a PAWS for People Therapy Dog Team member and as my trusty right hand during my dog training career, I feel she deserves every shot at an extended life. Ten years old is just too young. Eleven years old was too young.
Thank you for reading this account of my life and that of my dogs. Of course my dear husband Argil has been here every step of the way, my rock at all times. I don`t know how I would manage without him. Thank you for even considering reaching out to help a stranger or a friend. This is what the world goes around on, love and compassion for one another.
My heart goes out to any who have suffered the downpour that can be life.
Leslie